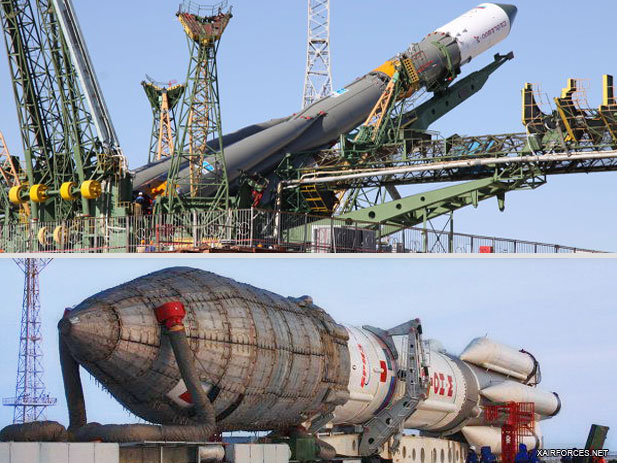 Russia prepares for launch of Proton-M carrier rocket with Dutch satellite



Russia prepares to launch on Monday a Proton-M carrier rocket with a Dutch telecommunications satellite, SES-4, a spokesman for the Khrunichev State Research and Production Center said.

He said the launch is scheduled for 22:41 Moscow time (18:41 GMT) from the Baikonur space center in Kazakhstan.

"This will be the 70th commercial launch of a Proton carrier rocket since 1995," the spokesman said adding that it will be also the 10th launch of this type of carrier rockets this year.

The SES-4 will be the largest and most powerful in the group of SES satellites, built by U.S. company Space Systems/Loral for the Dutch operator Ses World Skies.

It was designed to provide various satellite services to customers in the Middle East, Europe, Africa and Latin America. Equipped with 52 C-band and 72 Ku-band transponders, the satellite has a life span of 15 years.


Source: Moscow, 26 December  2011 - RIA Novosti News (www.en.rian.ru)

Photo: Russia prepares for launch of Proton-M carrier rocket with Dutch satellite  (Photo by © RIA Novosti. Oleg Urusov)

(12/26/2011)




• L. M. PAC-3 Missile Intercepts and Destroys Tactical Ballistic Missile in New Test
(4/12/2013)
Lockheed Martin's [NYSE: LMT] PAC-3 Missile successfully detected, tracked and intercepted a tactical ballistic missile (TBM) in a Lower Tier Project Office flight test today at Wh...>>

• U.S. Army OKs Patriot recertification
(4/1/2013)
Army has authorized a second recertification of Patriot missiles, extending the operational life of missiles in inventory to 45 years from 30 years....>>

• Lockheed Martin-Built Infrared Surveillance Satellite Launched Successfully
(3/19/2013)
The U.S. Air Force's second Space Based Infrared System (SBIRS) Geosynchronous Earth Orbit (GEO-2) spacecraft, built by Lockheed Martin [NYSE: LMT], was successfully launched today...>>

• Boeing Ships 5th WGS Satellite to Cape Canaveral for 2013 Launch
(3/12/2013)
Boeing [NYSE: BA] recently shipped its fifth Wideband Global SATCOM (WGS) satellite, which will provide the U.S. Air Force with faster transmission of airborne intelligence, survei...>>

• Boeing Phantom Eye Completes 2nd Flight
(2/27/2013)
Boeing's hydrogen-powered Phantom Eye unmanned airborne system......>>

• Boeing, IAI Arrow 3 Interceptor Successfully Completes 1st Flight Test
(2/25/2013)
The new Arrow 3 interceptor, which Boeing [NYSE: BA] and Israel Aerospace Industries (IAI) are co-developing to enhance Israel's ballistic missile defense, today successfully compl...>>

• Success of the 1,800th Launch of Soyuz
(2/11/2013)
The 1,800th flight of a Soyuz launch vehicle was performed on Monday, 11 February 2013 from the Baikonur Cosmodrome in Kazakhstan at 18:41 Moscow time (15:41 Paris time)....>>