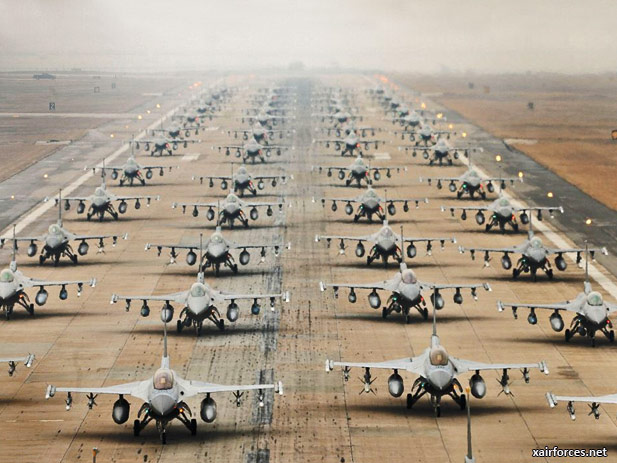 Korean, U.S. Fighter Jets in Joint Drill, More Than 60 F-16 on same runway



The 38th Fighter Group of the Korean Air Force conducted a drill with the U.S. Eighth Fighter Wing at Gunsan Air Base on Friday.

The exercise involved around 60 of the Korean Air Force's KF-16 and the U.S. Air Force's F-16 fighter jets. A U.S. spokesman said the exercise was designed to show readiness to defend the Republic of Korea at any time.

After the North Korean leader made his first visit to the tense demilitarised border and Pyongyang agreed to freeze its nuclear weapons programme, United States and South Korean aircraft joined forces in this huge display of F-16 Fighting Falcons.

As these pictures from Kunsan Air Base show, hundreds of the jet fighters stretched as far as the eye could see.

North Korea has accused the U.S. and South Korea of preparing for a northward invasion, but the allies insist the exercises are merely defensive drills.

Colonel Craig Leavitt, 8th Operations Group commander, said: 'The purpose of the exercise today is to test the ability of our team to execute our combat mission at a moment's notice.

'This shows the resolve that we have as a team, the United States and the Republic of Korea forces, to defend the Republic of Korea at any time.'

Kunsan Air Base, which faces on to the Yellow Sea from South Korea's west coast, was built by occupying Japanese forces in 1938.

It was taken over by the Americans in 1945 and was briefly captured during the Korean War in 1950, only to be snatched back by U.S. infantry a few months later.


Source: By Lyle Brennan - 06 March 2012 - Daily Mail News

Photo:Row after row of F-16 Fighting Falcons fills the airstrip in a show of force at Kunsan Air Base, South Korea (Photo by © Caters News Agency)

(6.3.2012)